It's that time of year again. Time to think back to all the toys you bought this last year (2011) and pick the favorites of your favorites. Old, new, borrowed, blue, doesn't matter as long as it was received this year. Make a list however long and detailed as you want and in any order you want, just remember to try and give the reasons why you like it so much (even a short reason).
Here's mine:
#10 Animated Auto Trooper.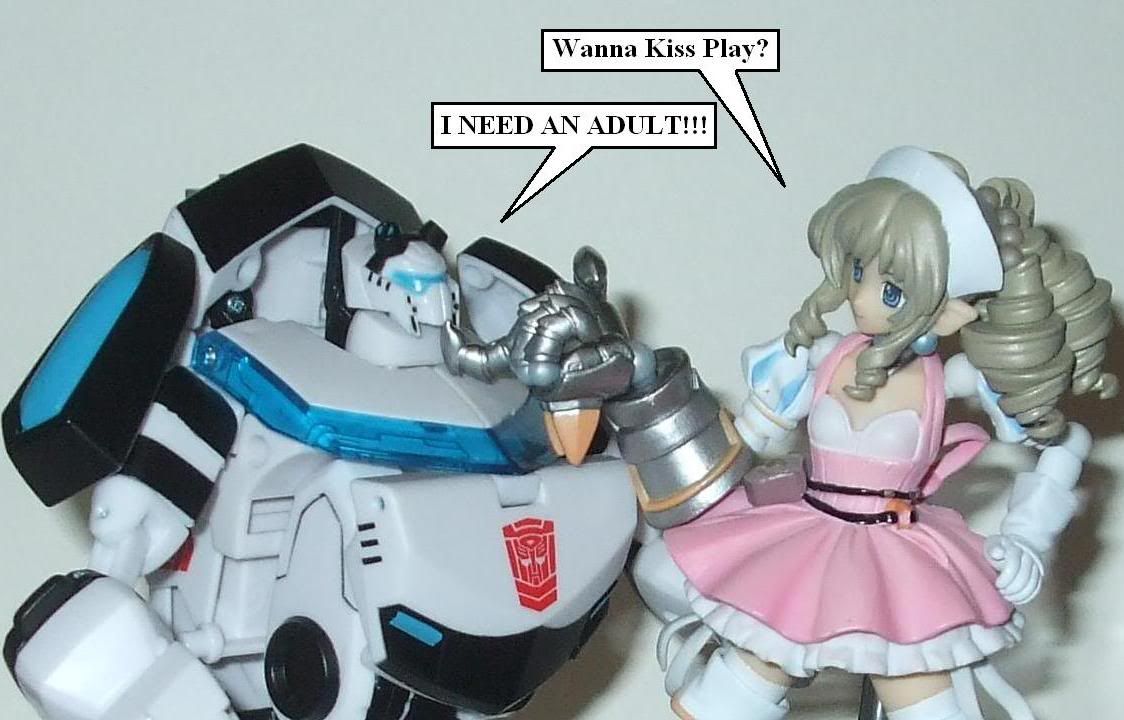 Had to at least mention this one. Afterall, it was the only Animated remold I was really, really wanting. He turned out very well to. For those that don't know, I freaking love this mold and making him a policebot was right up my alley. Now if only it wasn't a con figure. Funny how Season 3 included more than one Kiss Players homages, but not a single RiD homage.
#9 RTS Lugnut.
Making this list, I realised how frontloaded Transformers were this year. As the year went on, there were less and less TFs to get and most of the good new stuff was released right at the first of the year. This includes Lugnut. I'm sure there's plenty that would rate him higher, but I'm putting him here. He is all kinds of great with a big bot mode and bigger alt mode. Honestly, this makes up for the tiny Animated Lugnut. I like the colors, but a little more purple would've been nice (The Japanese one has to much). He has good articulation and can easily do Iron Man's "the pose." Joints everywhere including fingers and jaw, a real world like plane with a wingspan a Leader Class would be jealous of, and a transformation that's fun...what's not to like?
#8 BWN Longrack.
Yes, he's been around for over a decade, but I don't care. I just got Longrack this summer and he's awesome. Longrack is a giraffe...if I have to say more of why he's awesome then there's no helping you. My god, it's a giraffe. If you don't say "I have to own that" right after that statement then you're nuts. Kidding aside, This is an awesome figure. A decent looking giraffe mode. The only flaw I know of is the touge is the wrong color. He has an attack mode but let's face it, no one cares about that mode. The bot mode is great. Good range of movement, good design, good paint, but that's not my favorite part. My favorite part is he has an extending arm gimmick...THAT'S GOOD! Every TF I've owned before him with this gimmick doesn't extend very far (less than an inch) and has an annoying hair trigger. Not the case here. When it extends, it extends almost the length of his legs. It locks well too, though the button is pretty big ad easy to hit. Plus he has a claw on the end, so he can grip things. Really cool toy and one of Neo's best.
#7 RTS Tracks.
He's here. He's fat. Deal with it :P Tracks is a design I've always been fond of and never had a good toy of. Yeah, I had the Alternators Tracks, but I said a GOOD toy. This is a good toy. He is kind of fat, but that just adds to the personality of the figure. I mean, Tracks thinks he's the sexyest thing on wheels but looks more like Energon Prime. That's brilliant weather intentional or not. I dig everything about this figure really, but I can't not go without mentioning the flying car mode. The offical one sucks, but with a little play a much better flying car mode can be made. I actually display him in this mode.
#6 Terradive and Space Case
I'm counting these 2 together since I got both this year and it's the same mold. I love this mold. Screw the seekers, I want this mold to be repainted endlessly. First the jet mode. The best kibble I've ever seen on a jet TF. It's so thin. Transformation is unique and fun as hell to do. What's better is that everything locks into it's place in both modes and locks well. They come with a trident, an unique weapon for a TF. But what makes it all work is the fact that he can use the trident fairly well. This is a big thing for a TF. I'm use to figures like Vector Prime that comes with a sword that they can't even hold it 2 handed. His guy can pose well and grip the trident well enough to get the kind of poses I'd except from a trident user. Truly a worthwild mold.
#5 POC Low Light.
This is one of those figures that excels in having a ton of new stuff AND being able to hold it all on his person at once. He has a vest, opening rifle case (that doubles as a backpack), an opening huge backpack (that can be equiped at the same time as the rifle case), box of ammo (with removable bullet!), a radio, uzi, goggles, knife, silencer, scope, bipod, sniper rifle (with extendable stock), a cell phone, and a spotter. On top of that, the figure itself is great. Great details and design and some of the best wrist joints in town. Truly GI Joe at it's finest.
Added note: I think more Joes would be on my list if I could actually find the newer figures.
#4 Figma Kamen Rider Wing Knight and Onyx.
Note: Wing Knight's right forarm isn't normally that. His normal forarm is a mirror of the left. I was just having fun with SCIENCE!
It's Bugmen! Putting these two together because they are similar in design and I got them at the same time. My first two Figmas and I gotta say I love these guys. Great articulation, great sculpts, great accessories...and super cheap to. I got these guys for about $20 together before AmiAmi fixed their US site. Worth it. Wing Knight's cape is extra awesome. It has a wire at the bottom of the cloth so it can be posed. Sweet. Onyx comes with some cool stuff as well like the Guard and Strike Vent, but I think I like Onyx's ease of getting into Rider Kick best and the standard Figma stand is maybe the greatest stand ever. I'm sure the Figuarts are equally awesome, but these Figmas shouldn't be written off just because they don't have Advent Beasts.
#3 Generations Warpath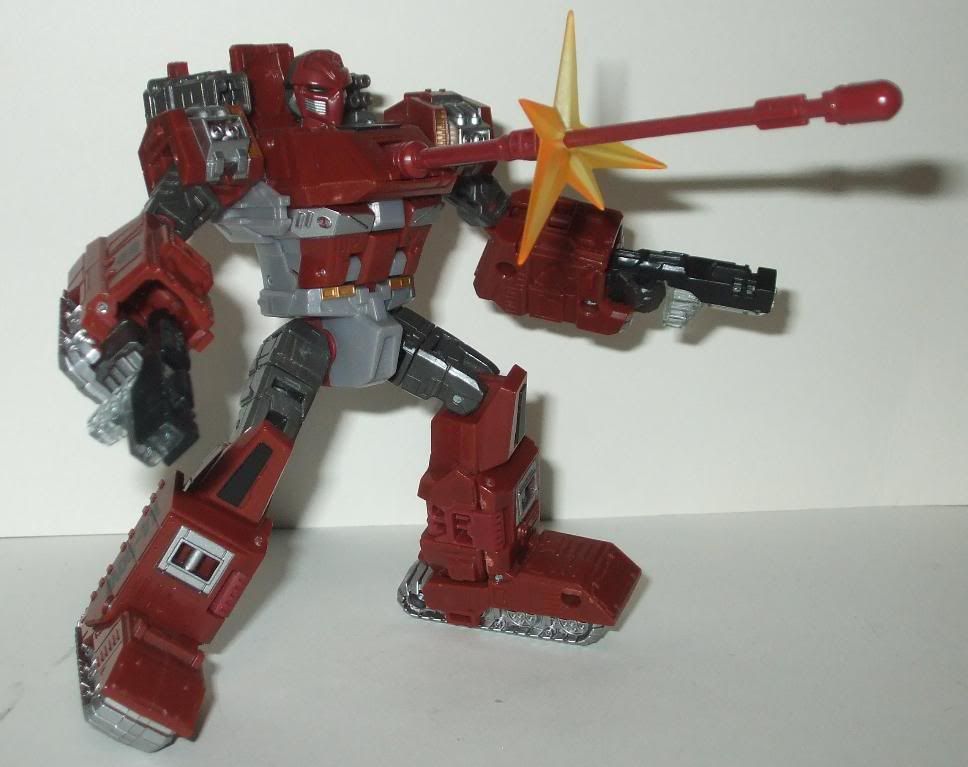 This year everyone was going on and on about Wheeljack and Windcharger and I couldn't care (okay, maybe a little on Windcharger). I wanted my Warpath, damnit! I love a good tank TF and normally hate "H" tanks, but Warpath found the balance to pull out a great looking H tank. It still has the bulk and filled in center of a normal tank and the legs of an H tank. It kind of reminds me of the Thundertank. Turret moves in all the right places, which is something you can take for granted until it's gone (looking at you Guzzle). Then there's bot mode. Awesome. A big and powerful looking design with legs and arms that look more like the Sunbow cartoon. Of course he has his chest cannon, which can be pushed into the chest or left extended. I prefer half extended so he looks like he has a chest cannon, but not bragging about it. If I had a complaint it would be the big gaps in his forarms and the fact that it's hard to find good 5mm weapons he can use. Still a great figure and just what I wanted from an updated Warpath.
#2 Revoltech Jehuty.
Zone of the Enders is Konami's redheaded stepchild that always loses to the Metal Gear franchise. Damn shame too could I love ZOE and really don't care about MGS (Not saying it's bad, just not my cup of tea). Eitherway, ZOE is finally getting some attention this year with an upcoming HD remake and "ZOE 3DS" (god, I hope that's a remake so I can continue to ignore that system). The attention it's getting at the moment is some great action figures starting with Revoltech and damn is it a great one. I have the first release in ZOE1 colors (which I prefer) and couldn't be happier. This thing has everything I want. Boost effects for the jets, radar ring (the freaking radar ring!), slash effect, OPTIONS, a hand that can grab things with a peg that's the same size as the stand pegs (same size as Joe backpack pegs to), and even extra elbow joints to extend the arm for the slash attack. Did I mention the glorious paint job? It's slick and shiny and the exact colors I wanted. This is Jehuty, quite possibly the best Revoltech ever.
#1 SH Figuarts GokaiRed.
Over the last year, I've gotten back into Tokusatsu with full force. I've picked up a few series of Super Sentai and picked back up one Kamen Rider series I didn't finish years ago. However, what started and continues to be my favorite is the current Sentai series Pirate Sentai Gokaiger. Even the bad episodes are great. Anyways, starting in 2010, Bandai Japan decided to include Sentai in the SH Figuarts that's normally dominated by Kamen Rider. They started with Shinkenger, and then continued with Gokaiger when the Shinkengers were a hit. The first Gokaiger is GokaiRed, of course. There's very little not to like here. Details are perfect, articulation is perfect, paint job forgot one detail, but otherwise perfect as well (so minor I don't know why I even mentioned it). He has both of his weapons (GokaiSaber and GokaiGun), plenty of hands, an extra part to do his role call pose (crossing his arms), and even a Mobirates complete with tiny Ranger Keys (that he has a special hand to hold). Not to mention the articulation. This thing can do just about anything you'd want and do it well. It's the kind of Power Ranger/Sentai figure I've always wanted. Super articulated to the point that it can take the poses of the suit actor and look damn good doing it. As a bonus (literally), the first release came with the Gokai Darin, GokaiRed's steering wheel for the GokaiOh (the Megazord). It gives him a really nice dio piece to pose with. Great, great, great figure. It was a hard choice between GokaiRed and Jehuty, but at the end of the day Red wins because he's outright Marvelous.

Honorable Mentions:

GI Joe POC/30th Steel Brigade.

Now this is a troop builder. He comes with enough to make at least 3-5 weapon load outs. The parts used are a great combo to. While most of what he comes with is reused parts, there's a few new parts to finish the look. Everything meshes well and painted like the Steel Brigade should. Added to the correct paint job is some dirt weathering that POC was good at. Finally, as icing on the cake, Steel Brigade's File Name is left blank as a great homage to the original mail in offer. I really should get more of these guys.

ThunderCats 4" Lion-O. He's here over the other TCasts because he has a waist joint and some really nice paint apps compared to the others. The armor is all nice and shiny making him stand out more and he's missing very few paint apps. I also dig the eyes. I had feared the skirt would mean the hips would be limited, but that's not the case much to my joy. He loses points for that mess of a sword. While there are better figures in the bigger lines, he's the best of the 4" scale.

Power Rangers Samurai "Juzo." Yes, he's called Deker in the piece of crap known as Samurai, but to me he's Juzo, the Shinkenger counterpart. He gets points for being the first Juzo figure ever and for a nice paint wash (something BoA rarly does). Plus, he looks like the character. I could even aruge this figure is more accurate than the upcoming Figuarts. Much like Lion-O, his swords costs him points. He also loses points for the limited movement due to design and the paint wash being in the joints making the wrists stick. Still a worthy addition as an alternative to the much (much, much, much) more expensive Figuart.

I've shared my favorite toys of 2011, so it's time to share your favorites. Have at it.

__._.··..-.-..__.-.··..···.-.