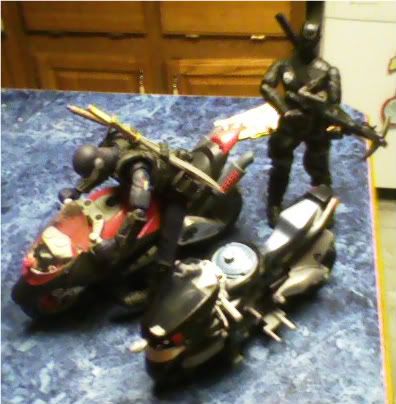 Normally I don't review toys. I leave that to the experts around here, but this time I absolutely had to speak up about this. This playset is an unadulterated attempt to make money at all costs. The figure mold itself is adequate but his weapons have the disadvantage of he cannot hold them as his hands while having the separated three finger and trigger finger grip there is no spring to hold them in place so the uzi falls out of his hand and the handle of his sword is too wide for his hand.

For fifteen dollars I figured I couldn't go wrong right? I mean he came with his motorcycle. The motorcycle in question is a repaint of a Sigma Scale. Thats right an 8 inch motorcycle for a 12 inch figure. As you can see in the above comparison picture there is a bit of a difference, and it shows. All I have to say involving this set and the Storm Shadow set I'm sure as well is for shame Walmart for shame. I would have expected better for the exclusives you have had along with this one. This one fails miserably.

__.___.—..··.-..__.___.—..__._.—.